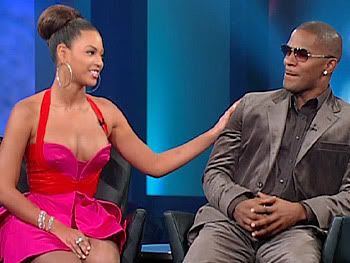 Jamie Foxx: Don't touch me when you're wearing something you stole from My Size Barbie. You're totally harshing my cool.
Beyonce: I have to touch you, Jamie. If I move my arm at all, my boob will pop out. I can't have my boob pop out on Oprah.
Jamie Foxx: Didn't I see that outfit at Stars on Ice? Tara Lipinski was playing a tulip.
Beyonce: Seriously, Jamie. Don't move a muscle. You're the only thing standing between me and endless humilation on YouTube.
Jamie Foxx: Sorry, kid. That's what you get when you come out dressed like one of the cocktail waitresses at Disneyland's Tomorrowland Stage. Speaking of, can you bring me a g & t?