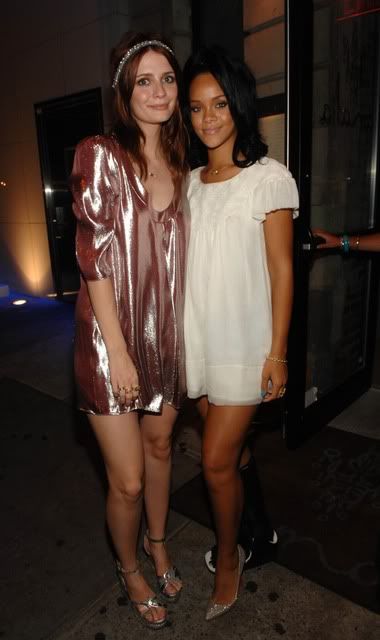 MISCHA: Do you think people remember that I used to have an acting career, or do they just think I'm one of those girls who hangs out with Nicole Richie a lot?
RIHANNA:...that's a rhetorical question, right? Because I'd hate it if we had to get all awkward.
MISCHA: This dress is a little too short, right? I look uncomfortable, don't I? I have the same expression on my face as the time I found out they were going to make me wear that hat, don't I? I think that hat was the beginning of the end of my career.
RIHANNA: My dress is short, too, Mischa!
MISCHA: But you're WORKING IT. I look like I just realized that I left my hotpants in the back of the limo.
RIHANNA: I do look pretty cute, now that you mention it. Even with a cast on my foot! Does this mean we get to talk about me a little bit? Are you going to ask how I get my complexion so gorgeous?
MISCHA: Oh my God, are you implying that my FACE looks bad now, too? RIHANNA, SOMETIMES I THINK MY FACE IS ALL I'VE GOT.
RIHANNA: No, no. No. You're still pretty, Mischa. I mean, your hair is all kind of up in there, but...I mean, just look at your reflection in your dress, if you're really worried about it.
MISCHA: I knew there was a reason I bought this!